Sweet Georgia Peach Honey
By
Paula Deen
JUMP TO RECIPE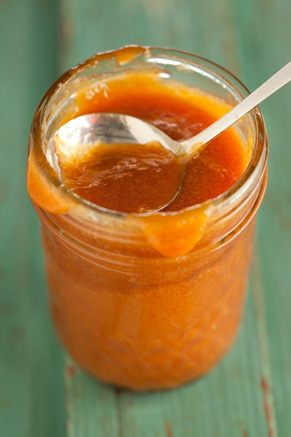 Difficulty: Medium
Prep time: 20 minutes
Cook time: 20 minutes
Servings: 20
Ingredients
12 cups (approximately 20 peaches) with skins and pits removed, chopped fresh peaches
1 large quartered and seeds removed, keep rind intact orange
1 large quartered and seeds removed, keep rind intact lemon
8 cups sugar
6 (1 pint) sterilized canning jars and lids
Directions
Using a food processor or blender, puree the orange and lemon until smooth. Add the peaches to the citrus mixture and pulse until smooth (you may need to work in batches). In a large saucepan combine the peach and citrus mixture with the sugar. Bring to a boil over medium high heat, stirring frequently to prevent scorching. When peach mixture is at a full boil, reduce heat to medium and cook until the mixture is the color and texture of honey (approximately 1-2 hours).
Sterilize jars and lids directly before using for 10 minutes in simmering water or in the dishwasher. Remove one at a time when ready to fill.
While peach mixture is still hot, ladle into the hot sterilized jars, filling to within 1/4 inch of the top. Wipe rims with a clean damp cloth and seal jars with lids and rings. Process in a boiling water bath (making sure water level is 1 inch over the top of the jars) for 10 minutes. Remove from water bath and allow to cool on the counter.