Sweet Blueberry Cornbread
By
Paula Deen
JUMP TO RECIPE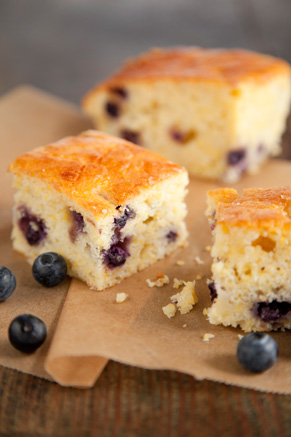 Difficulty: Easy
Ingredients
1 1/2 cups all purpose flour
2/3 cup sugar
1/2 cup cornmeal
1 tablespoon baking powder
1/2 teaspoon salt
1 1/4 cups milk
2 large lightly beaten eggs
1/3 cup canola oil
4 tablespoons melted butter
1 cup (or fresh frozen blueberries) fresh blueberries
Directions
Preheat oven to 350 °F. Spray an 8″ square baking pan with non-stick baking spray and set aside.
In a medium mixing bowl, whisk together flour, sugar, corn meal, baking powder and salt. In a separate large mixing bowl, whisk together milk, eggs, oil and butter. Add to flour mixture to wet mixture and stir just until blended. Gently fold in blueberries.
Pour into prepared baking pan. Bake for 35 minutes or until wooden pick comes out clean. Serve warm with butter.