Lighter Sweet Orange and Blueberry Cornbread
By
Deen Brothers
JUMP TO RECIPE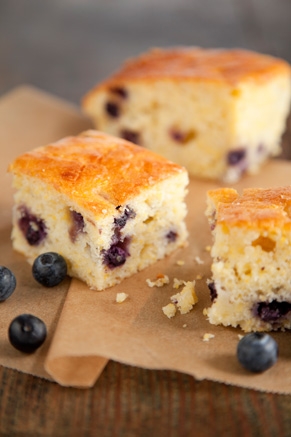 Difficulty: Easy
Prep time: 10 minutes
Cook time: 10 minutes
Servings: 10
Ingredients
1 1/4 cups all- purpose flour
3/4 cup yellow cornmeal
1/4 cup sugar
2 teaspoons baking powder
1/2 teaspoon salt
1 cup reduced-fat buttermilk
1/3 cup canola oil
1 large lightly beaten egg
1 egg white
1 cup blueberries
1 orange's worth orange zest
Directions
Preheat the oven to 400 °F. Spray an 8 x 8-inch baking pan with cooking spray.
Whisk together the flour, cornmeal, sugar, baking powder and salt in a medium bowl. Whisk together the buttermilk, oil, egg, egg white and orange zest until well blended. Add the flour mixture just until combined. Gently fold in blueberries.
Scrape the batter into the pan. Bake until a toothpick inserted into the center comes out clean about 25 minutes. Transfer to a rack to cool. Serve warm or at room temperature.