Sweet Black Cherry Crisp
By
Paula Deen
JUMP TO RECIPE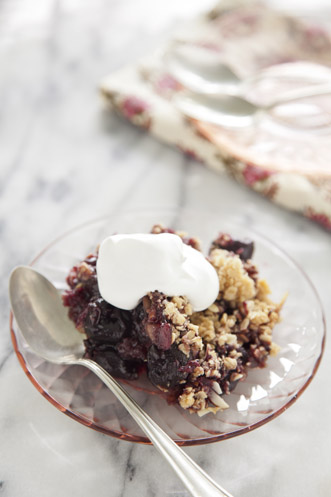 Difficulty: Easy
Prep time: 20 minutes
Cook time: 20 minutes
Servings: 20
Ingredients
1/2 cup granulated sugar
1/4 cup, plus 3 tablespoons all purpose flour
6 cups pitted thawed frozen cherries
1 cup quick cooking oats
1/2 cup firmly packed brown sugar
1/4 cup softened butter
1/2 cup sliced almonds
Directions
Preheat the oven to 350º. Lightly grease a 13 by 9-inch baking pan.
In a large bowl, combine the sugar and 3 tablespoons flour. Add the cherries, tossing gently to coat. Spoon the mixture into the prepared pan.
In a medium bowl, combine the oats, brown sugar, and remaining 1/4 cup flour. Using a pastry blender, cut in the butter until the mixture is crumbly. Stir in the almonds. Sprinkle evenly over the cherry mixture. Bake until hot and bubbly and the topping is golden brown, about 30 minutes. Let stand for 15 minutes before serving.