Strawberry Rhubarb Ginger Crisp
By
Paula Deen
JUMP TO RECIPE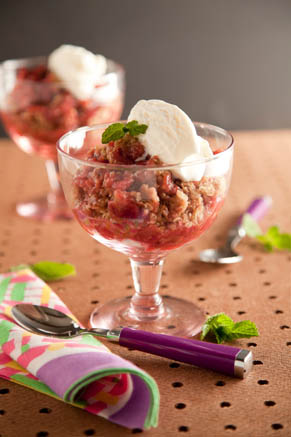 Difficulty: Easy
Ingredients
2 cups large diced rhubarb
or heavy cream, to serve ice cream
2 cups stems removed quartered strawberries
1 cup sugar
1 tablespoon minced crystallized ginger
1/4 cup plus 2 tablespoons all purpose flour
1/4 cup oatmeal
1/4 cup brown sugar
2 tablespoons cold and diced butter
1/4 teaspoon ground ginger
Directions
Preheat oven to 350º F.
Prepare an 8×8-inch baking dish with non-stick cooking spray and set aside.
In a large mixing bowl, toss together rhubarb, strawberries, sugar, crystalized ginger and 2 tablespoons flour. Pour mixture into the prepared baking dish.
Using the same mixing bowl using a pastry blender or two forks, mix together remaining flour, oatmeal, brown sugar butter and ginger until crumbly. Spread crumb mixture over rhubarb mixture and bake until browned and bubbly (approximately 45 minutes). Serve warm with vanilla bean ice cream or heavy cream and garnish with fresh mint leaves.