Strawberry Cobbler
By
Paula Deen
JUMP TO RECIPE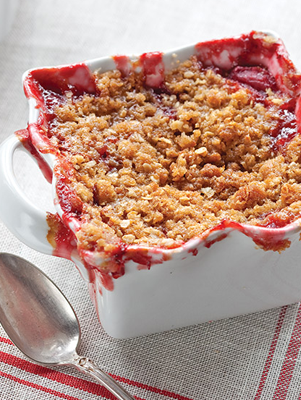 Featured in:
Cooking with Paula Deen Magazine
Difficulty: Easy
Prep time: 60 minutes
Cook time: 45 minutes
Servings: 6 to 8
Ingredients
12 cups sliced fresh strawberries (about 4 pounds)
½ cup sugar
2 tablespoons cornstarch
2 tablespoons water
¾ cup quick-cooking oats
¾ cup brown sugar
½ cup all-purpose flour
½ teaspoon ground cinnamon
½ cup butter, softened
Directions
Preheat oven to 350˚F.
In a large saucepan, stir together strawberries and sugar. Let stand for 30 minutes.
Cook strawberry mixture over medium heat, stirring frequently, for 5 minutes. In a small bowl, stir together cornstarch and 2 tablespoons water until dissolved. Stir cornstarch mixture into strawberry mixture. Bring to a boil; cook until mixture is thickened, 1 to 2 minutes. Divide mixture among ramekins.
In a medium bowl, stir together oats and next 3 ingredients; using a pastry blender, cut in butter until mixture is crumbly. Divide mixture among ramekins.
Bake browned and bubbly, 25 to 30 minutes. Let cool for 20 minutes. Serve warm.
Notes: Cobbler can also be baked in a 13×9-inch baking dish.