Spinach Stuffed Zucchini
By
Paula Deen
JUMP TO RECIPE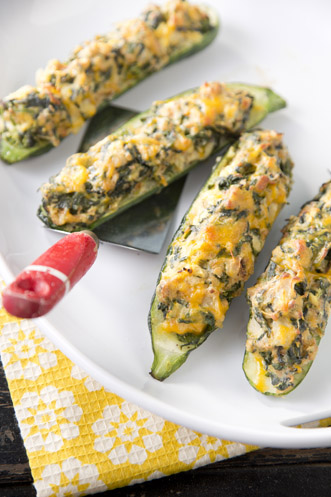 Difficulty: Medium
Prep time: 10 minutes
Cook time: 10 minutes
Servings: 10
Ingredients
5 large or squash, halved lengthwise zucchini
2 tablespoons olive oil
3/4 teaspoon salt
1/4 teaspoon ground black pepper
2 tablespoons butter
1/2 cup diced onion
1 cup chicken flavored stuffing mix
1 (10 oz) package thawed and squeezed dry frozen chopped spinach
1/2 cup sour cream
1 cup shredded sharp cheddar cheese
Directions
Preheat oven to 400 degrees F.
Brush cut side of zucchini with olive oil; sprinkle with salt and pepper. Place zucchini, cut side down, on a lined baking sheet. Bake 15 minutes, or until tender. Scoop out pulp, keeping shells intact; reserve pulp. Reduce heat to 350 °F.
In a large skillet, melt butter over medium heat. Add onion; cook 5 minutes or until transparent. To the skillet, add stuffing mix, spinach, sour cream, cheddar and zucchini pulp. Mix together and add salt and pepper, to taste. Cook for 3 minutes. Spoon mixture evenly into zucchini shells. Place on baking sheet, and bake 15 to 20 minutes, or until heated through.