Spicy Corn and Crab Puffs
By
Paula Deen
JUMP TO RECIPE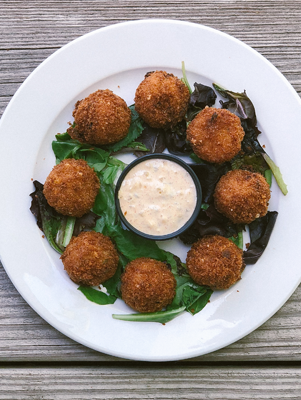 Difficulty: Medium
Prep time: 15 minutes
Cook time: 15 minutes
Servings: 15
Ingredients
for frying peanut oil
3/4 cup buttermilk
2 eggs
1 (8 oz) box self-rising corn muffin mix
1 lb well drained and picked clean of shells lump or backfin crabmeat
1 cup thawed and drained frozen corn kernels
5 white and light green parts, trimmed and chopped green onions
2 1/2 teaspoons hot sauce
1 teaspoon salt
1/4 teaspoon freshly ground black pepper
Directions
In a deep-fryer or heavy-bottomed pot, heat enough oil to come halfway up the sides of the pot, to 350 °F.
In a medium bowl, whisk together the buttermilk and eggs. Stir in the corn muffin mix. Fold in the crab, corn kernels, green onions, hot sauce, salt and pepper. *Cook's Note: If the batter looks too thin, add a little more self-rising flour to thicken.
Using 2 spoons, carefully drop heaping tablespoons of the crab mixture into the oil and fry, turning often for an even golden-brown color and crispness, about 2 to 3 minutes. Transfer to a paper towel-lined plate to drain. Arrange them on a serving platter and season with additional hot sauce, salt and pepper, if desired. Serve immediately.