Southern-Stuffed Loaf
By
Deen Brothers
JUMP TO RECIPE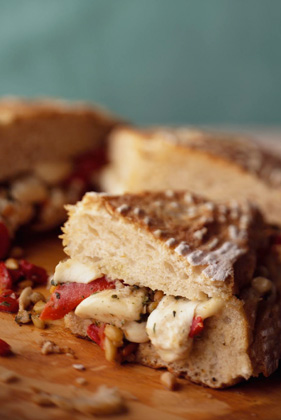 Featured in:
The Deen Bros. Recipes from the Road
Difficulty: Easy
Servings: 4 to 6
Ingredients
1 1-pound round loaf sourdough bread
12 ounces fresh mozzarella
1 cup coarsely chopped roasted red peppers
1/2 cup pine nuts
2 tablespoons pesto
Directions
Preheat the oven to 400°F. Cut the top third off the loaf of bread and scoop out 2 cups of bread from the bottom section. (Save scooped-out bread to make croutons or bread crumbs later.) Put the two pieces of bread on a baking sheet, cut sides up. Bake about 5 minutes or until lightly toasted.
In a large bowl, toss together the mozzarella, roasted peppers, and pine nuts. When bread is toasted, brush cut sides with pesto and spoon the mozzarella mixture into the bottom section. Put the top section on and wrap the whole loaf with foil. Bake wrapped loaf about 30 minutes or until warmed through. Unwrap and cut loaf into 4 to 6 wedges; serve immediately.