Snow Crab Stuffed Mushrooms
By
Paula Deen
JUMP TO RECIPE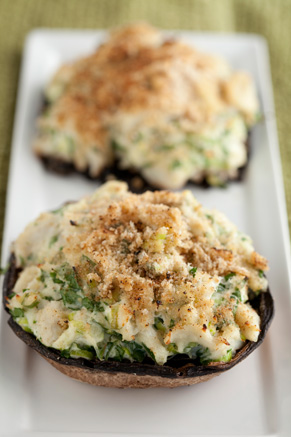 Difficulty: Easy
Prep time: 10 minutes
Cook time: 10 minutes
Servings: 10
Ingredients
20 medium caps only button mushrooms
2 tablespoons olive oil
1 cup cooked snow crab pieces
4 oz softened cream cheese
2 plus more for topping, minced green onions
3/4 cup shredded Parmesan cheese
salt
freshly ground black pepper
chopped for topping fresh chives
Directions
Preheat oven to 350 °F.
In a large mixing bowl toss the mushrooms in the olive oil and season with salt and pepper, to taste. Lay the mushroom caps out on a rimmed baking sheet, stem side up. Bake in the oven for 10 minutes.
Meanwhile, stir the crab, cream cheese, green onion and some salt and pepper together in a mixing bowl.
Preheat the broiler.
Divide the stuffing among the baked mushroom caps without filling them too tightly. Top each stuffed mushroom with some green onions, chives, shredded Parmesan and broil for 2 to 3 minutes until the cheese is bubbly and the stuffing is heated through.