Smothered Chicken
By
Paula Deen
JUMP TO RECIPE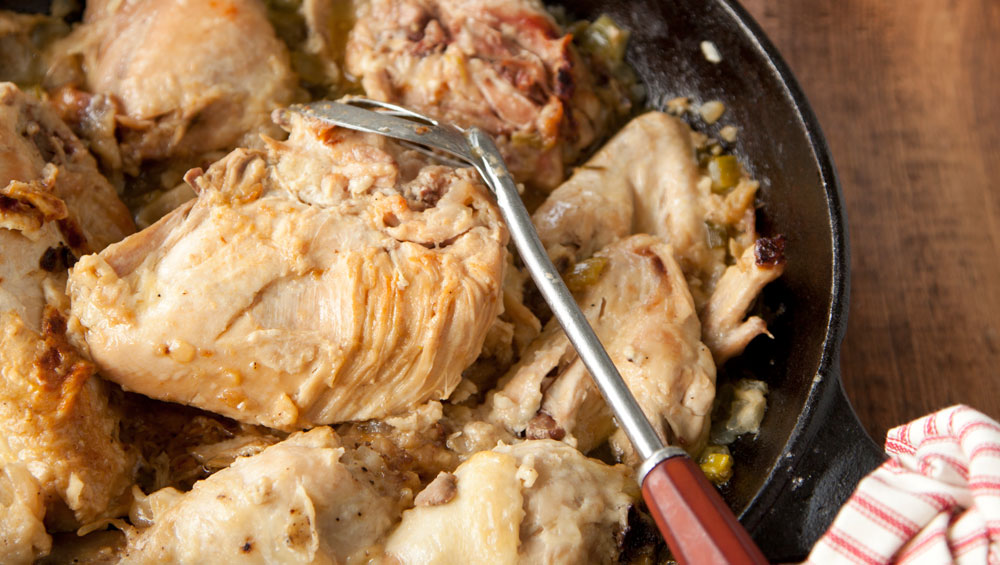 Difficulty: Easy
Ingredients
1 cup all purpose flour
1/2 teaspoon garlic powder
1 3 1/2 lb rinsed, patted dry and cut into 8 pieces whole chicken
4 tablespoons butter
1 chopped small yellow onion
1 chopped small green bell pepper
1 1/2 cups whole milk
salt and freshly ground black pepper
1/2 cup water
Directions
In a wide, shallow bowl, whisk together the flour, garlic powder, and ½ teaspoon each salt and black pepper. Lightly sprinkle the chicken all over with salt and black pepper. Dip each piece of chicken in the flour mixture, shaking off any excess flour. (Set any leftover flour aside to use in step 3)
In a large skillet with a lid, melt the butter over medium-high heat. Add the chicken and cook, turning occasionally, until golden brown all over, 8 to 10 minutes. Transfer the chicken to a paper towel-lined plate to drain.
Add the onion and bell pepper to the skillet and cook, stirring, until softened, about 5 minutes. Stir in 3 tablespoons of the reserved flour mixture and cook, stirring, for 1 minute. Slowly whisk in the milk and ½ cup water. Simmer until the sauce has thickened and is nice and creamy, about 5 minutes.
Return the chicken to the pan. Cover the pan and simmer on low heat until the chicken is tender, about 30 minutes. Bring to the table right there in the skillet.