Smothered Chicken and Biscuits
By
Paula Deen
JUMP TO RECIPE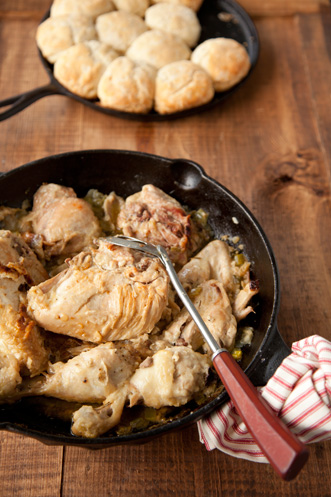 Difficulty: Medium
Prep time: 15 minutes
Cook time: 15 minutes
Servings: 15
Ingredients
2 tablespoons extra virgin olive oil
1 cut into pieces whole chicken fryer
2 cups plus more for work surface all purpose flour
1 tablespoon Paula Deen's House Seasoning
2 ribs chopped celery
1 chopped onion
2 chopped scallions
1/2 cup water
2 cups plus more for work surface self rising flour
1 teaspoon salt
1 teaspoon sugar
1/2 cup shortening
1 cup milk
2 tablespoons butter
Directions
For the chicken:
Heat the oil in skillet over medium heat.
Season the chicken with salt and pepper, to taste. Combine the flour and House Seasoning in a shallow dish. Dredge the chicken in the flour mixture and add to the hot oil. Brown the chicken on each side and remove from skillet. Add the vegetables to the skillet and sauté until tender. Return the chicken to the pan and add a 1/2 cup of water. Cover and cook until tender, approximately 25 minutes.
For the biscuits:
Preheat the oven to 400 °F.
In a large mixing bowl, combine the flour, salt, sugar and shortening. Stir in the milk and mix together until the mixture resembles coarse crumbs.
The dough will be sticky. Dust your work surface with additional flour. Turn the dough out onto the floured surface. Gently fold each side toward the center. Picking up the dough and dusting the work surface with additional flour. Return the dough to the floured surface and fold each side towards the center again. Turn the dough over and press it out to a 1-inch thickness. Cut out biscuits, using a 2-inch round cookie cutter.
Melt 2 tablespoons of butter over low heat in a small saucepan. Spread 1 tablespoon on a 10-inch round cake pan and arrange the biscuits in the pan. Brush the tops of the biscuits with the remaining butter and set the pan aside to rest for 15 minutes before baking. Bake until golden brown, about 15 minutes. Serve with the chicken.