Smoked Gouda and Sweet Potato Pizza
By
Paula Deen
JUMP TO RECIPE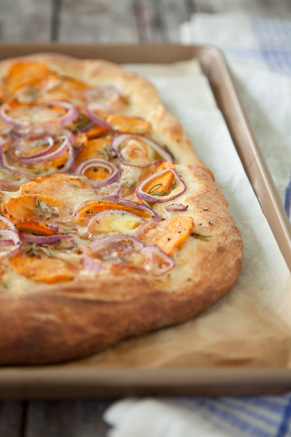 Difficulty: Easy
Prep time: 10 minutes
Cook time: 10 minutes
Servings: 10
Ingredients
for dusting flour
1 lb ball store-bought, at room temperature pizza dough
3 tablespoons olive oil
1 small peeled and thinly sliced into 1/8 inch slices sweet potato
1 small thinly sliced red onion
2 sprigs roughly chopped fresh rosemary
4 oz sliced smoked gouda
2 tablespoons chopped fresh chives
kosher salt
freshly ground black pepper
Directions
Heat oven to 425 °F. Spray a rimmed sheet tray with non-stick spray.
Dust your work surface lightly with flour and stretch the pizza out to a large oval shape, about the same size as a half sheet tray.
Add sweet potatoes, onions and rosemary to a large bowl and drizzle with 3 tablespoons olive oil and season with salt and pepper. Evenly spread out the mixture over the dough, leaving an inch crust. Top the potatoes with cheese slices. Bake for 20 minutes, until crisp and golden. Sprinkle with chopped chives before serving.