Simple Roast Turkey
By
Paula Deen
JUMP TO RECIPE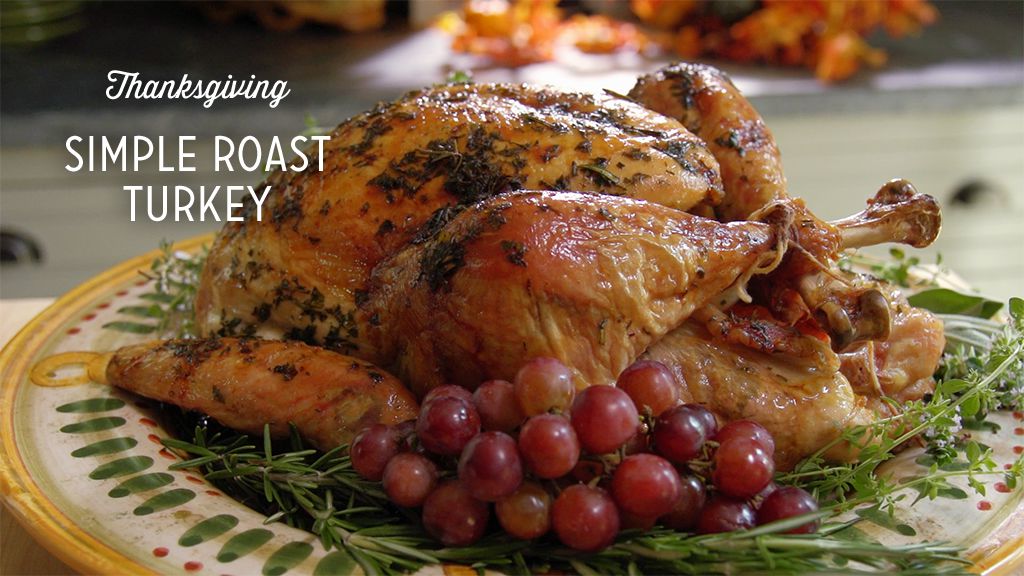 Difficulty: Easy
Prep time: 15 minutes
Cook time: 15 minutes
Servings: 15
Ingredients
1 1/2 sticks room-temperature butter
2 tablespoons chopped parsley
2 tablespoons chopped thyme
2 tablespoons chopped rosemary
2 teaspoons kosher salt
1 teaspoon freshly ground pepper
1 12 lb fresh or defrosted turkey
1 quartered onion
1 stalk chunked celery
1 chunked carrot
1 head cut in half horizontally garlic
Directions
Heat oven to 375 °F.
Combine butter, parsley, thyme, rosemary, salt and pepper in a small bowl.
Place the turkey breast-side up in a roasting pan fitted with a v rack, taking care to tuck the wings under the bottom of the bird.
Sprinkle the cavity with salt and pepper. Place the onion, celery, carrot and garlic inside the bird.
Using your hands, rub the turkey with the butter mixture.
Roast for 18 minutes per pound (for a 12-pound bird that's roughly 3 1/2 hours). The turkey is finished roasting when the thermometer inserted into the thickest part of the thigh reaches 165 °F and the juices run clear.
Tent the turkey loosely with foil and rest for 20 minutes before carving.