Sesame Seed Grilled Tuna Steaks
By
Jamie Deen
JUMP TO RECIPE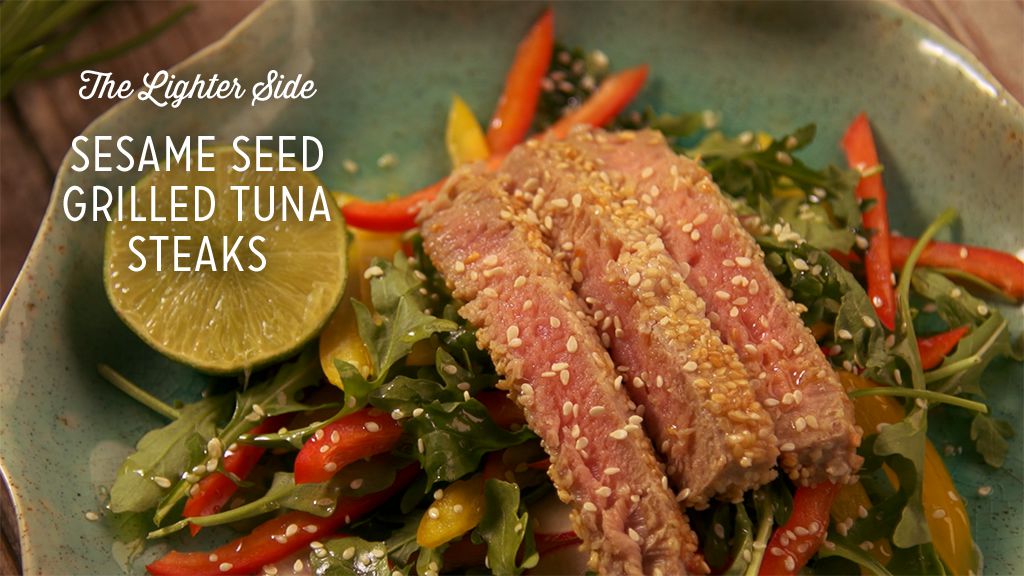 Difficulty: Easy
Prep time: 65 minutes
Cook time: 65 minutes
Servings: 65
Ingredients
2 tablespoons soy sauce
3 tablespoons bourbon
3/4 teaspoon black pepper
2 tablespoons olive oil
2 tablespoons sesame oil
2 (8 oz) tuna steaks
1 cup sesame seeds
2 tablespoons honey
1 juiced lime
Directions
Preheat grill pan. In a large, shallow bowl, whisk together the soy sauce, bourbon, black pepper and the oils. Add the tuna steaks, flipping at least once to coat. Cover tightly with plastic wrap and refrigerate for 1 hour.
Place sesame seeds in a pie plate. Press each side of the steaks in the sesame seeds, then place on grill. Cook for 2 1/2 minutes per side.
For a salad dressing, whisk together sesame oil, olive oil, lime juice and honey. Toss with a simple arugula salad with radishes, onions and red and yellow peppers. Serve tuna on top of salad.