Sesame Chicken Strips
By
Paula Deen
JUMP TO RECIPE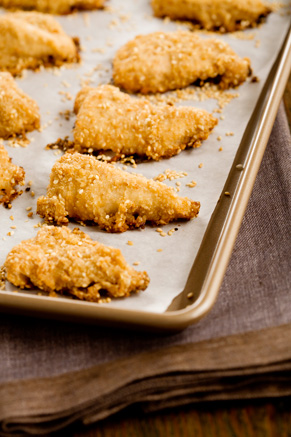 Difficulty: Easy
Prep time: 8 minutes
Cook time: 8 minutes
Servings: 8
Ingredients
6 skinless boneless chicken breast halves
1 cup sour cream
1 tablespoon or 1/2 lemon juiced lemon juice
2 teaspoons celery salt
2 teaspoons Worcestershire sauce
1/2 teaspoon salt
1/4 teaspoon pepper
2 cloves minced garlic
1 cup dry breadcrumbs
1/3 cup sesame seeds
4 tablespoons melted butter
Directions
Lightly grease a 15 by 10-inch jelly roll pan. Cut chicken crosswise into 1/2-inch strips. In a large bowl, combine sour cream, lemon juice, celery salt, Worcestershire sauce, salt, pepper and garlic. Mix well. Add chicken to mixture, coat well, and cover. Refrigerate at least 8 hours or overnight.
Preheat oven to 350 °F.
In medium bowl, combine breadcrumbs and sesame seeds. Remove chicken strips from sour cream mixture. Roll in crumb mixture, coating evenly. Arrange in single layer in prepared pan. Spoon butter evenly over chicken. Bake for 18 to 25 minutes or until chicken is tender and golden brown.