Seafood Cioppino Stew
By
Paula Deen
JUMP TO RECIPE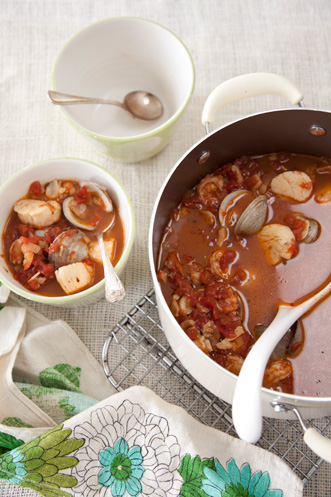 Difficulty: Easy
Prep time: 10 minutes
Cook time: 10 minutes
Servings: 10
Ingredients
3 tablespoons olive oil
1 medium diced onion
1 rib chopped celery
4 cloves thinly sliced garlic
4 cups canned undrained chopped tomatoes
1/2 cup diced roasted red peppers
1 teaspoon dried thyme
1 teaspoon dried oregano
1/3 teaspoon red pepper flakes
1/2 cup dry white wine
2 cups beef stock
1 cup bottled clam juice
1/2 lb sea scallops
1 lb (cod, halibut, striped bass, red snapper), cut into 1-inch pieces firm white fish
1 lb medium peeled and deveined shrimp
24 scrubbed small clams in the shell
2 tablespoons fresh lemon juice
1/4 cup fresh parsley
for serving crusty French bread
Directions
In a Dutch oven, heat oil over medium heat. Add onion, celery and garlic. Cook about 15 minutes or until vegetables are soft and beginning to brown.
Add the undrained tomatoes, roasted peppers, thyme, oregano and red pepper flakes. Season, to taste, with salt and pepper. Pour in wine and beef stock. Stir and bring to a simmer. Cook partially covered for 45 minutes, stirring occasionally. Add the clam juice and continue cooking uncovered for 5 minutes.
Stir in scallops, fish pieces and cook for 5 minutes. Add shrimp and clams. Cook for 5 more minutes. Stir in lemon juice. Ladle into bowls and sprinkle with parsley and serve with crusty bread.