Sausage and Peppers Pasta
By
Paula Deen
JUMP TO RECIPE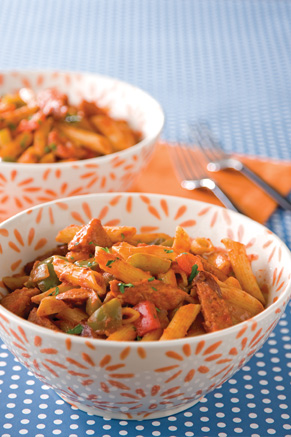 Difficulty: Easy
Prep time: 10 minutes
Cook time: 10 minutes
Servings: 10
Ingredients
1 tablespoon vegetable oil
1 (14 oz) package halved lengthwise and sliced 1/"2 inch thick beef smoked sausage
1 chopped red bell pepper
1 chopped green bell pepper
1 chopped yellow bell pepper
1 chopped sweet onion
2 teaspoons minced garlic
1 (28 oz) can crushed tomatoes
1 teaspoon Creole seasoning
1/2 teaspoon crushed red pepper
1/4 teaspoon salt
1 (16 oz) package cooked according to package directions and kept warm penne pasta
chopped, for garnish fresh parsley
Directions
1. In a large skillet, heat oil over medium-high heat. Add sausage, and cook, stirring frequently, for 6 minutes or until sausage is browned. Add peppers, onion and garlic; cook for 7 to 8 minutes or until vegetables are tender.
2. Stir in tomatoes, next 3 ingredients, and pasta, tossing gently to coat. Reduce heat to medium, and cook for 5 minutes or until heated through. Serve immediately. Garnish with parsley, if desired.
Note: Italian turkey sausage can be substituted for smoked sausage to lighten the dish.