Salted Caramel Hot Cocoa Bomb
By
Teri Blevins, Lil' Bit of Heaven Cupcakes
JUMP TO RECIPE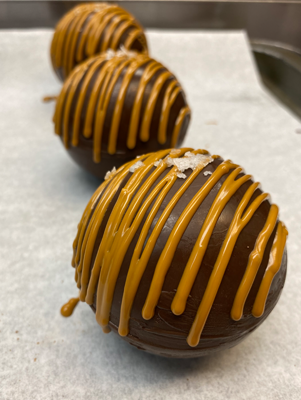 Difficulty: Medium
Prep time: 45 minutes
Servings: 3
Ingredients
Chocolate Shell
1 pound block chocolate almond bark
Hot Cocoa Bomb
6 chocolate shell halves
3 tablespoons salted caramel hot cocoa powder, divided
24 mini marshmallows, divided
24 mini caramel baking bits, divided
3 teaspoons salted caramel, divided
salted caramel chocolate, for garnish
flaked sea salt, for garnish
Directions
Chocolate Shell
Using a large knife, cut the chocolate almond bark into approximately 2-inch chunks
Microwave chunks in heat-proof bowl for 3 minutes at 50% power. Stir. Place bowl back in microwave for another 2-3 minutes at 50% power, stir until smooth. If chocolate is not completely dissolved and smooth, add 1 minute at a time at 50% until completely smooth.
Place 70mm Silicone Sphere Mold on cookie sheet. Take deep, rounded tablespoon measuring spoon and dip out one tablespoon of the melted chocolate into each of the six cavities.
Take the back of the tablespoon and move the chocolate from the center up the sides, making sure to coat entire surface evenly. Place cookie sheet with mold on it into freezer for 5 minutes or refrigerator for 10 minutes.
Remove from freezer and, working quickly, add one tablespoon to first mold, using same process pushing the chocolate up making sure to cover all sides completely. For this step you are only going to put chocolate in the mold one sphere at a time.
Once all six molds are filled, freeze again for five minutes or refrigerate for 10 minutes until firm. Remove mold and cookie sheet from freezer.
Place piece of parchment on second cookie sheet, and unmold each chocolate sphere half by gently pulling mold away from the edge of the chocolate and pushing up from the bottom of the cup at the same time. Place sphere halves on parchment-covered cookie sheet.
Hot Cocoa Bomb
Take ceramic plate that is microwave safe and heat in microwave for approximately 35 to 45 seconds. While you are heating your plate, make sure you have all of the ingredients for the inside of your hot cocoa bomb within a few inches from your parchment-lined cookie sheet.
Set your warmed plate close to your cookie sheet on your work surface.
Take your first sphere half and turn it till the flat side is facing down; touch that side to your warm plate, turning as you do so to start melting the edge of the chocolate, this creates the glue to hold your two halves together. You need to try to work quickly—if you wait too long and the chocolate hardens, you will need to do this again.
IMPORTANT NOTE: All halves must go through this process to form your hot cocoa bomb, but you must do them one at a time.
Take your first sphere half that you have melted the edge and add in one tablespoon of the salted caramel hot cocoa powder, 8 mini marshmallows, 8 caramel baking bits, and one teaspoon of the salted caramel. This will be your bottom.
Now take another sphere half and melt the edge on the plate again before placing it gently on top of your bottom half. Make sure to line up your edges perfectly so that they match. Then, take your finger and run it around the seam of your hot cocoa bomb to glue the two halves together. You may need to use some of the melted chocolate from the plate to ensure it is properly stuck together.
Set that aside and continue the process until all are completed.
Decorate by drizzling the top of each with the salted caramel chocolate and a pinch of the flaked sea salt.
TO ENJOY: Place your hot cocoa bomb inside the bottom of a medium to large coffee mug. Slowly pour 8 to 12 oz of heated milk over your hot cocoa bomb. The chocolate shell will melt under the heat of the milk and all of the wonderful ingredients will pop up to the surface. Take a spoon, stir all of the contents together to mix thoroughly, and enjoy!!