Salted Caramel Brownies
By
Paula Deen
JUMP TO RECIPE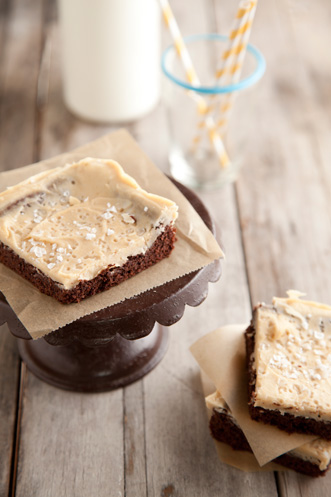 Difficulty: Easy
Ingredients
1/3 cup firmly packed dark brown sugar
6 tablespoons whole milk
1/4 cup plus 3/4 cup, melted butter
2 cups sifted confectioner's sugar
1 teaspoon vanilla extract
2 teaspoons sea salt
devil's food cake mix
1/3 cup evaporated milk
1 large egg
chocolate syrup
whipped cream
sliced banana
1 pint ice cream
Directions
In a medium saucepan, combine the brown sugar, milk and butter. Bring to a simmer over medium heat. Simmer 3 minutes. Transfer to a large bowl. Gradually add the confectioners' sugar, beating at medium speed with a mixer until combined. Beat in the vanilla. Gently spread over the Brownies; the frosting will thicken as it cools. Sprinkle with the sea salt, gently pressing to adhere. Cool completely. Cut into 1-inch pieces.
Serve with ice cream, whipped cream, banana slices and chocolate syrup.
Brownies:
Preheat the oven to 350 degrees F. Spray a 13 by 9-inch baking pan with nonstick cooking spray.
In a large bowl, combine the cake mix, melted butter, evaporated milk and egg. Stir until smooth (the batter will be thick). Spread the chocolate mixture evenly into the prepared pan. Bake for 20 to 25 minutes.