With Valentine's Day about a week away, y'all might be feelin' pressure to come up with some big romantic gesture for someone you love. And while it's too late and too expensive to book a trip to Bali or hire Barry Manilow to make a house call, it's never too late to show someone how much you love and appreciate them by giving 'em something homemade from the heart. It doesn't need to be a big production; sometimes the simplest gestures are the sweetest ones.
This doesn't mean doing a last-minute dash to the grocery to pick up a box of chocolates, like the ones with the little maps inside to let you know what you don't want to eat. Store-bought chocolates just say "re-gift"—not exactly the best way for someone to feel the love. Of all the days, Valentine's Day is just not the time to be settling for less. The whole point of the holiday is to find a way to say "I love you" without even having to move your lips.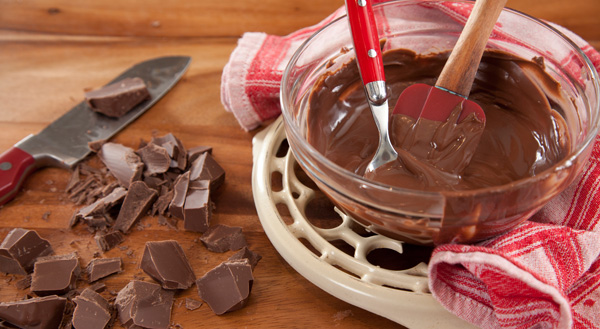 Whatever you may have heard about the complexities of candy-makin', rest assured that these Valentine's Day chocolates are so easy. "Simple and sweet" is the best way to describe these handmade boxes of chocolates that I've put together. All you really need is your favorite brand of chocolate and some inspiration.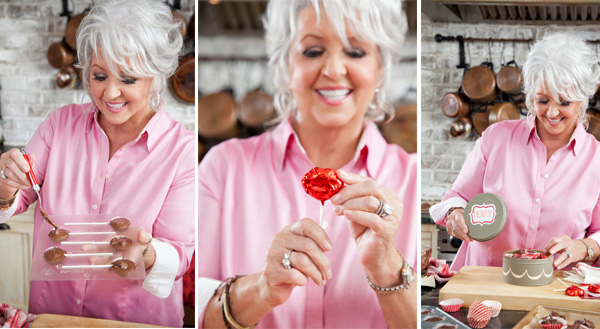 I found my inspiration in dozens of darling little molds used to make chocolate pops. I fell in love with these lips that I wrapped tightly in bright red foil. All I had to do was melt the chocolate, pour it in the mold, let it harden back up and pop it out. I also made "nut clusters" by mixin' in my favorite nuts and spooning it into festive paper liners in a mini-cupcake tin. Once the chocolates set, I put them in a decorative container with my Valentines' names written on them, keeping in mind that while presentation isn't everything (taste is!), it still counts for something.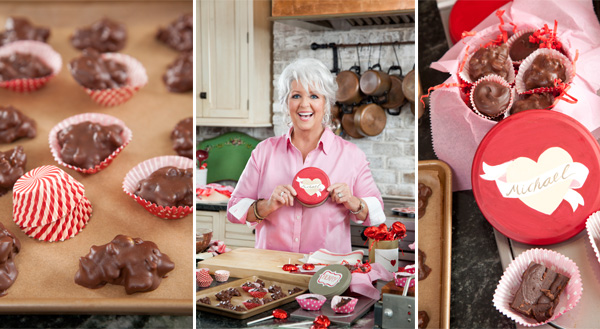 Of course, no box of chocolates would be complete without a couple pieces of homemade fudge. My simple recipe makes fudge that will just melt in your mouth. And forget about drawing a map for your box of chocolates. Your loved ones won't be discriminating—they'll eat every single morsel.
You know, Valentine's Day and a box of chocolates go hand in hand. Like two people madly in love, they can't be pried apart—not even with a crowbar, y'all. Likewise, you won't be able to pull these wonderful chocolates out of the hand that receives 'em, so be sure stash away a few for yourself! The cook deserves some lovin', too.
*You can find similar supplies in your local craft stores!
Make your own homemade chocolate box with my featured recipes!