Roasted Corn, Pepper, and Black Bean Salsa
By
Paula Deen
JUMP TO RECIPE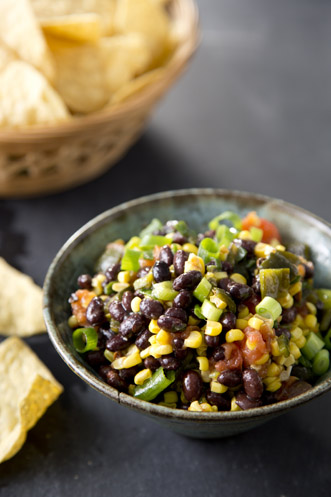 Difficulty: Easy
Prep time: 15 minutes
Cook time: 20 minutes
Servings: 8
Ingredients
4 roma tomatoes, cut in half lengthwise
2 poblano peppers, cut in half lengthwise
2 cups fresh corn kernels (3 or 4 ears)
1 15-ounce can black beans, drained and rinsed
4 green onions, sliced
1/4 cup olive oil
2 tablespoons lime juice (about 2 limes)
1 clove garlic, minced
3/4 teaspoon salt
1/4 teaspoon pepper
Directions
Preheat the oven to 500 degrees F. Line a rimmed baking sheet with aluminum foil.
Place the tomatoes and peppers, skin-side up, on the prepared baking sheet. Sprinkle the corn kernels around the peppers. Bake until the vegetables look blistered, 20 minutes.
Place the tomatoes and peppers in a resealable plastic bag; seal, and let stand for 10 minutes to loosen the skins. Peel and chop the tomatoes. Peel the peppers, remove and discard the seeds, and finely chop. Place the chopped tomatoes, peppers, and corn in a large bowl. Add the black beans, green onions, oil, lime juice, garlic, salt, and pepper, stirring to combine.