Red Velvet Crinkles
By
Paula Deen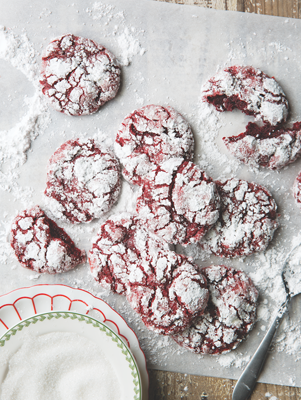 Prep time:

135 minutes

Cook time: 12 minutes
Servings: 24
Ingredients
1 (15.25-ounce) box red velvet cake mix
⅓ cup vegetable oil
2 large eggs
2 tablespoons all-purpose flour
¼ teaspoon vanilla extract
1 cup granulated sugar
1 cup confectioners' sugar
Directions
In a large bowl, beat cake mix, oil, eggs, and flour with a mixer at medium speed for 2 minutes, stopping to scrape sides of bowl. Add vanilla, and beat until combined. Cover and refrigerate until firm, about 2 hours.
Preheat oven to 350°. Line baking sheets with parchment paper.
Place sugars in separate bowls. Scoop dough into 1½-inch balls. Roll in granulated sugar to coat; roll in confectioners' sugar to coat. Place 2 inches apart on prepared pans; slightly flatten cookies.
Bake until surface of cookies is cracked and edges look dry, 10 to 12 minutes. Let cool on pans for 5 minutes. Remove from pans, and let cool completely on wire racks. Store in an airtight container for up to 3 days.