Red Velvet Bread Pudding
By
Paula Deen
JUMP TO RECIPE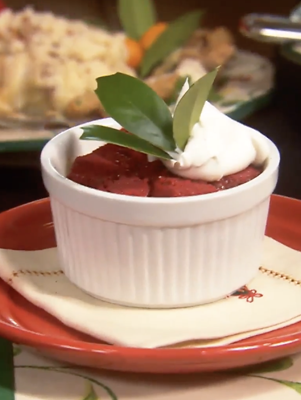 Difficulty: Medium
Prep time: 15 minutes
Cook time: 55 minutes
Servings: 8
Ingredients
Red Velvet Bread Pudding
2 cups sugar
1/2 lb butter, room temperature
2 large eggs
2 tablespoons cocoa powder
2 oz red food coloring
2 1/2 cups cake flour
1 teaspoon salt
1 cup buttermilk
1 teaspoon vanilla extract
1/2 teaspoon baking soda
1 tablespoon vinegar
vanilla ice cream, for serving
Bread Pudding Mix
3 cups half and half
3 large eggs
1 large egg yolk
pinch of salt
1 teaspoon vanilla
1 (8-oz) package cream cheese, room temperature
3/4 cup confectioner's sugar
Directions
Red Velvet Bread Pudding
Preheat the oven to 350 °F Greased 9 by 13 by 2-inch sheet pan.
In a mixing bowl, cream the sugar and butter, beat until light and fluffy. Add 2 eggs 1 at a time and mix well after each addition. Mix cocoa and food coloring together and then add to sugar mixture; mix well. Sift together flour and salt. Add flour mixture to the creamed mixture alternately with buttermilk. Blend in 1 teaspoon vanilla.
In a small bowl, combine baking soda and vinegar and add to mixture. Pour batter into the prepared sheet pan. Bake for 20 to 25 minutes or until a toothpick inserted into the center comes out clean. Remove from heat and cool completely. When the cake is cooled, cut into 1-inch cubes.
Place cubes onto 11 by 17-inch cookie sheet. Place in oven for 10 minutes.
Place the red velvet cubes in a large baking dish or 8 individual ramekins. Add the pudding mixture to the dish. Make sure the cake cubes are completely covered. Bake for about 30 minutes, or until the pudding is set. Serve with ice cream.
Bread Pudding Mix
Combine the half and half, 3 eggs, egg yolk, pinch salt and 1 teaspoon vanilla in a medium bowl. With an electric hand mixer in a large bowl, beat the cream cheese and confectioner's sugar until smooth. Mix in the half and half mixture.