Quick Coconut Bon Bons
By
Paula Deen
JUMP TO RECIPE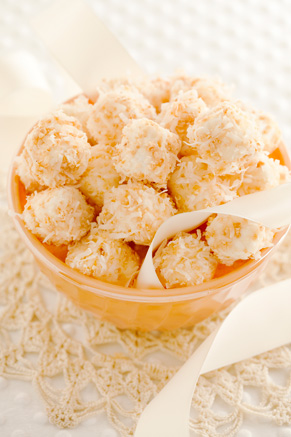 Difficulty: Easy
Prep time: 20 minutes
Cook time: 10 minutes
Servings: 18
Ingredients
18 large marshmallows
1 (7 oz) package sweetened shredded coconut
1 cup ground salted cashews
1 cup heavy cream
1/2 teaspoon vanilla
Directions
In a small microwave safe bowl combine cream and vanilla; heat in microwave on High for 1 1/2 minutes.
Cover work surface with waxed paper. Combine coconut and ground cashews in a shallow dish or pie plate.
Spear marshmallows one at a time on a skewer or fondue fork and swirl in hot cream mixture for 15 seconds or until surface of marshmallow is softened. Let excess cream drip into bowl. Immediately roll softened marshmallow in coconut mixture. Place on waxed paper to cool. Store in airtight container.
Paula's Gift Packaging Tip: I found this beautiful lusterware bowl when I was out junkin' and thought it would be perfect for these bon bons. Tie up with a beautiful ribbon and your recipient gets a gift to eat and a gift to use.