Prosciutto, Carpaccio-Style
By
Deen Brothers
JUMP TO RECIPE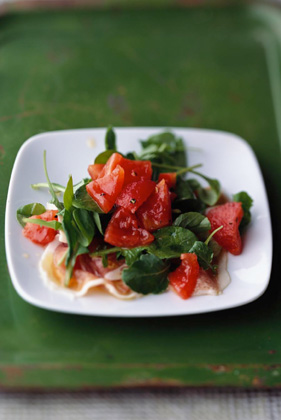 Featured in:
The Deen Bros. Recipes from the Road
Difficulty: Easy
Servings: 4
Ingredients
8 ounces sliced prosciutto
3 ounces baby arugula
2 tablespoons extra virgin olive oil
1 1/2 teaspoons red wine vinegar
Salt and freshly ground black pepper
4 large plum tomatoes
Directions
Divide the prosciutto among 4 plates. Top each with an equal amount of arugula and drizzle each with 1/2 teaspoon of the oil.
In a small bowl, whisk together the remaining oil, the vinegar, and salt and pepper to taste. Add the tomatoes; toss to coat. Spoon the tomato salad onto the center of each plate.