Pork-Slaw Egg Rolls
By
Paula Deen
JUMP TO RECIPE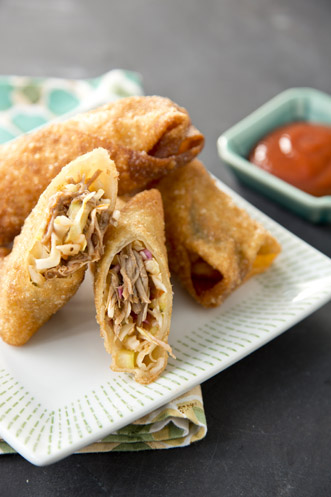 Difficulty: Easy
Ingredients
1 2 1/2-pound boneless boston butt roast or pork shoulder roast
2 tablespoons paula deen butt massage seasoning
1 16-ounce bag tri-color slaw mix
1/4 cup diced celery
2 tablespoons sweet pickle relish
1/4 2 cup barbeque sauce plus tablespoons
1 teaspoon Paula Deen's House Seasoning
2 16-ounce packages egg roll wrappers
Directions
Preheat oven to 350 degrees F.
Line a roasting pan with heavy-duty aluminum foil. Place roast in pan. Rub seasoning mixture over roast. Cover tightly with heavy-duty aluminum foil and bake for 3 hours, or until tender. Let roast cool to touch and shred the meat with a fork. In a large bowl, combine 2 1/2 cups of the shredded pork (reserve any leftover meat for another use), slaw mix, celery, and pickle relish. In a small bowl, combine barbeque sauce and House Seasoning. Pour over pork mixture, tossing gently to coat. Place 1 egg roll wrapper on a clean flat surface with one corner pointing towards you. Using a pastry brush, lightly brush corners with water. Spoon 1/3 cup of pork filling in center of each egg roll wrapper. Fold bottom corner of wrapper over filling. Fold left and right corners over filling. Tightly roll filled end toward remaining corner, pressing gently to seal. The end result should look like an envelope.
In a deep-fryer or large Dutch oven, pour oil to a depth of 2-inches. Heat the oil to 350 degrees F.
Fry egg rolls, in batches for about 2 minutes or until golden brown. Drain on paper towels. Serve with barbecue sauce.