Poppy Seed Chicken
By
Paula Deen
JUMP TO RECIPE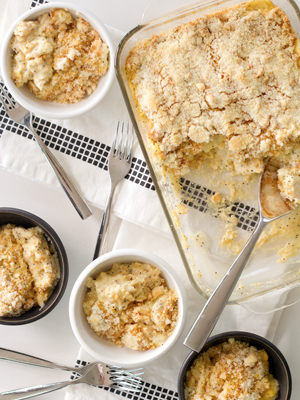 Difficulty: Easy
Ingredients
1 tablespoon plus 1 tablespoon, melted butter
2 8-ounce packages sliced portobello mushrooms
2 cups sour cream
2 10 3/4-ounce cans cream of chicken soup
1 cup toasted slivered almonds
1 tablespoon poppy seeds
7 cups chopped cooked chicken
2 cups crushed butter-flavored crackers
Directions
Preheat the oven to 375 degrees F. Spray a 13 by 9-inch baking dish with nonstick cooking spray.
In a large skillet, melt 1 tablespoon butter over medium-heat. Add the mushrooms and saute until browned, 7 to 8 minutes. To the skillet, add the sour cream, chicken soup, almonds, poppy seeds, and chicken. Pour the chicken mixture into the prepared baking dish.
In a small bowl, combine the melted butter and crackers; sprinkle over the chicken mixture. Cover with aluminum foil and bake about 15 minutes. Uncover and bake until bubbly, about 10 minutes longer. Serve over rice, if desired.