Pink Lemonade Layer Cake
By
Paula Deen
JUMP TO RECIPE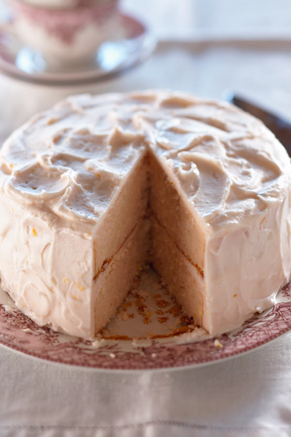 Difficulty: Easy
Prep time: 20 minutes
Cook time: 20 minutes
Servings: 20
Ingredients
1 (18 oz) box plus any additional ingredients the package directions call for white cake mix
3 tablespoons pink lemonade drink powder sweetened
2 teaspoons finely grated, divided lemon zest
2 teaspoons vanilla
1 lb confectioner's sugar
1 cup softened unsalted butter , plus more for pan
5 tablespoons frozen pink lemonade concentrate
1 teaspoon vanilla
Directions
Preheat the oven to 350 °F. Butter two 8-inch round cake pans and line the bottom with parchment or waxed paper; set aside.
For the cake, in a large bowl, stir together the cake mix and lemonade powder. Prepare the cake batter according to the package directions, using any additional ingredients called for (eggs, milk, water, oil, etc…). Stir 1 teaspoon lemon zest and 2 teaspoons of vanilla into the batter. Pour the batter evenly into the prepared pans. Bake for 30 to 35 minutes or until golden and a toothpick inserted in the centers of the cakes comes out clean. Let the cakes cool in the pans for 10 minuets. Carefully turn cakes out onto a wire rack to cool completely.
For the frosting, beat together the confectioners' sugar and butter until fluffy. Beat in the vanilla, 1 teaspoon lemon zest and frozen lemonade until combined.
Transfer one cake to a cake stand or large platter. Using an offset spatula spread the top of the cake with a layer of frosting. Place the second cake on top of the first. Spread the remaining frosting over the top and sides of both layers.