Pimento Cheese Sandwiches
By
Paula Deen
JUMP TO RECIPE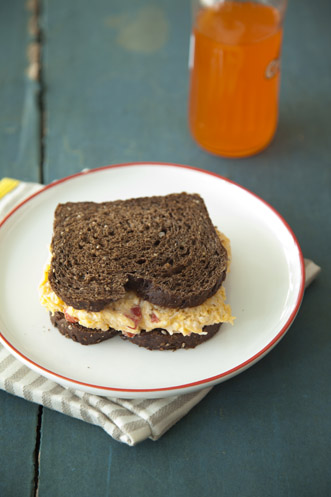 Difficulty: Easy
Ingredients
1/2 teaspoon finely chopped sage
2 teaspoons divided fresh lemon juice
2 teaspoons divided dry mustard
1/4 teaspoon plus a dash for mayonnaise cayenne pepper
1/2 teaspoon Worcestershire sauce
8 oz (2 cups) grated colby cheese
8 oz (2 cups) grated sharp cheddar cheese
1 4-ounce jar drained chopped pimentos
1/4 teaspoon hot pepper sauce
3 large egg yolks
pumpernickel, or bread of your choice bread
1 teaspoon white vinegar
1 teaspoon salt
1 teaspoon sugar
1 1/2 cups canola oil
Directions
In a medium bowl, combine the mayonnaise, sage, 1 teaspoon lemon juice, 1 teaspoon mustard, cayenne, and Worcestershire sauce with a rubber spatula.
Add the two cheeses and pimientos, blending thoroughly to combine. Season with salt, pepper, and hot sauce. Refrigerate until ready to use. Spread between 2 slices of bread.
Homemade Mayonnaise:
In a food processor fitted with the metal blade, a blender, or the jar of mayonnaise maker, combine the yolks, 1 teaspoon lemon juice, vinegar, 1 teaspoon mustard, salt, sugar, and dash cayenne. Pulse several times to blend.
With the processor running at high speed, or while quickly dashing the plunger of a mayonnaise maker, very slowly drizzle in the oil, allowing it to fully integrate as added until all the oil has been incorporated.