Pickled Vegetables
By
Paula Deen
JUMP TO RECIPE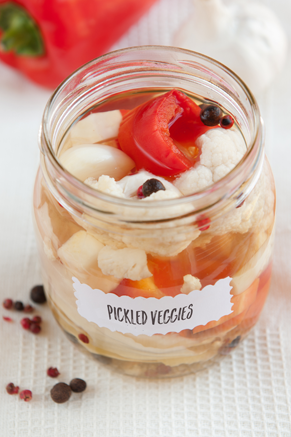 Difficulty: Easy
Prep time: 20 minutes
Cook time: 20 minutes
Servings: 20
Ingredients
2 1/2 cups apple cider vinegar
2 1/2 cups water
1/4 cup sugar
2 teaspoons salt
1 teaspoon black peppercorns
1 bay leaf
2 cups baby carrots
1 head broken into bite-size florets cauliflower
2 cut into strips red bell peppers
2 cut lengthwise into quarters and seeded (or leave seeds for spicier pickles) jalapeños
Directions
In a stockpot over medium-high heat, bring vinegar, water, sugar, salt, peppercorns and bay leaf to a boil, stirring until sugar dissolves.
Add vegetables and reduce heat to a simmer.
Cook until vegetables are tender, about 10 to 12 minutes.
Remove from heat and let cool completely. Transfer to an airtight container and refrigerate until serving (keeps about 2 weeks).
Drain before serving.