Perfectly Pecan Praline Cookies
By
Susan Butts
JUMP TO RECIPE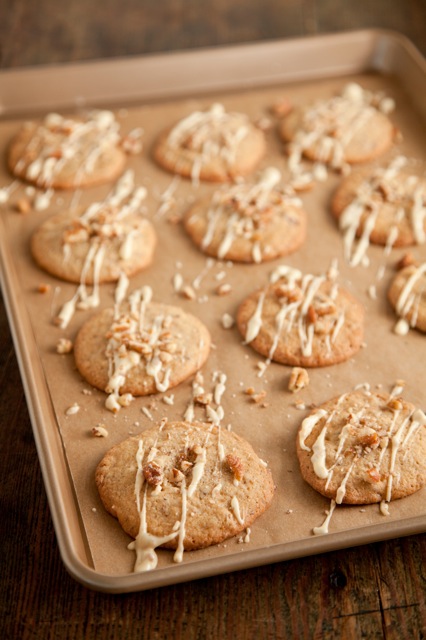 Difficulty: Easy
Prep time: 15 minutes
Cook time: 15 minutes
Servings: 15
Ingredients
1/3 cup sugar
2 tablespoons water
1 cup finely chopped, plus 2 tablespoons for sprinkling toasted pecans
1 cup at room temperature butter
1 cup packed brown sugar
1/2 cup granulated sugar
2 eggs
1 teaspoon vanilla extract
2 1/2 cups all purpose flour
1/2 teaspoon baking soda
4 oz white chocolate
Directions
Preheat oven to 350 °F.
Praline:
In a small heavy saucepan over medium heat, stir together constantly the sugar and water. Cook until boiling for 2 1/2 to 3 minutes or until the syrup is golden brown in color. It is important to remove the saucepan from the heat just as the sugar begins to darken to an amber color. Remove from the heat and stir in 1 cup pecans. Carefully pour the hot mixture onto a parchment lined sheet tray. Let cool until completely firm. Transfer to a plastic bag, crush with a rolling pin, and reserve for the cookie dough.
Cookies:
In a large bowl, cream the butter and sugars together with a hand mixer. Add the eggs, 1 at a time, beating well after each addition. Add vanilla extract and beat until combined.
Stir in the flour and baking soda and mix until incorporated. Fold in the reserved crushed praline until combined. Drop 1 tablespoon or a small ice cream scoop of the dough onto a parchment paper lined cookie sheet. Bake for 13 to 15 minutes or until the edges are slightly browned.
While the cookies are baking, melt the chocolate in a double boiler and stir until smooth. When the cookies are done drizzle the white chocolate over the cookies and sprinkle with the chopped pecans.