Pecan Brittle
By
Paula Deen
JUMP TO RECIPE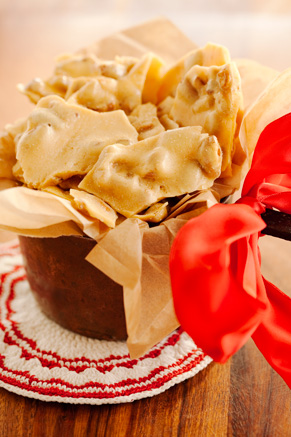 Difficulty: Hard
Prep time: 25 minutes
Cook time: 25 minutes
Servings: 25
Ingredients
2 cups toasted whole pecans
1 tablespoon salt
1 cup water
1 1/4 cups light corn syrup
2 1/2 cups sugar
4 tablespoons butter
3 teaspoons baking soda
Directions
In a nonstick saucepan, heat and stir sugar, corn syrup, water and salt over medium heat until sugar has dissolved. Over high heat, using a candy thermometer, cook sugar mixture to a hard crack stage (290 °F).
Add pecans and butter and cook to 300 °F stirring all the time to keep the nuts from burning. Pull off heat at 300 °F and stir in baking soda while beating to froth for 30 seconds.
Pour at once on to 4 well buttered 15 1/2 by 10 by 1-inch pans. Spread with a spatula as thin as possible. As the brittle cools you may use gloves to hand stretch the brittle which will give it a better eating quality.
This brittle has a great shelf life, if kept in airtight zip locks or containers; it will keep for 2 months.
Paula's Gift Packaging Tip: I love to junk for little pots and pans. I found this copper one at a store here in Savannah for FIVE dollars! I thought it would be the perfect way to gift my Pecan Brittle. I lined the saucepan with natural parchment paper piled it high with pecan brittle and tied a satin ribbon on the handle. Don't forget to add the recipe!