Peppery Coleslaw with Orange Chili Vinaigrette
By
Paula Deen
JUMP TO RECIPE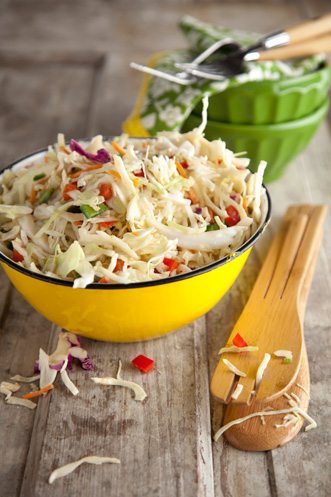 Difficulty: Easy
Prep time: 10 minutes
Cook time: 10 minutes
Servings: 10
Ingredients
1 (16 oz) bag tri-color coleslaw mix
1 seeded and diced poblano pepper
1 seeded and diced red bell pepper
1/2 seeded and minced jalapeño pepper
1 teaspoon orange zest
1/2 cup fresh orange juice
2 tablespoons fresh lime juice
1 tablespoon dijon mustard
2 teaspoons sugar
1/2 teaspoon ground cumin
1/4 teaspoon salt
1/4 teaspoon ground black pepper
1/3 cup light olive oil
2 tablespoons hot chili oil
Directions
In a medium serving bowl, combine the slaw mix and the peppers. Just before serving, add the Orange Chili Vinaigrette, tossing gently to coat. Serve immediately.
Orange Chili Vinaigrette:
In the container of an electric blender, combine the orange zest, orange juice, lime juice, mustard, sugar, cumin, salt and pepper and process until smooth. With the blender running, add the oils in a slow, steady stream. Cover and refrigerate until ready to use.
Yield: 1 1/2 cups