Pecan Crusted Fried Brie With Raspberry Sauce
By
Paula Deen
JUMP TO RECIPE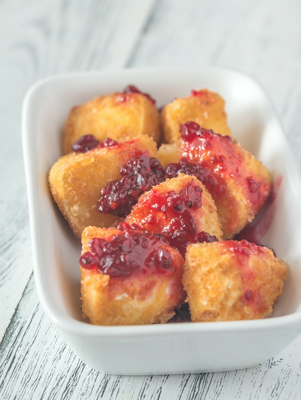 Difficulty: Easy
Prep time: 10 minutes
Cook time: 10 minutes
Servings: 10
Ingredients
2 large beaten eggs
2/3 cup finely chopped pecans
1/3 cup panko
2 (7.7 oz) rounds well chilled brie cheese
for frying vegetable oil
1/3 cup raspberry preserves
1/2 teaspoon lemon zest
1 splash rice wine vinegar
1 pinch red pepper flakes
Directions
In a large skillet over medium heat, add oil to a depth of 1 1/2 inches and heat to 350 °F.
In a shallow bowl, add the eggs. In a shallow plate, combine the pecans and panko. Slice 1 cheese round into 8 equal wedges. Dip each wedge into the egg, turning to coat. Dip each wedge into the crumb mixture, pressing to adhere.
Fry the wedges, a few at a time, in the hot oil, turning quickly to cook until golden on all sides, about 1 minute. Drain on paper towels. Serve immediately with Raspberry Sauce.
Raspberry Sauce:
In a small bowl, combine the raspberry preserves, zest, rice wine vinegar and red pepper flakes.