Peach Tea Cupcakes
By
Paula Deen
JUMP TO RECIPE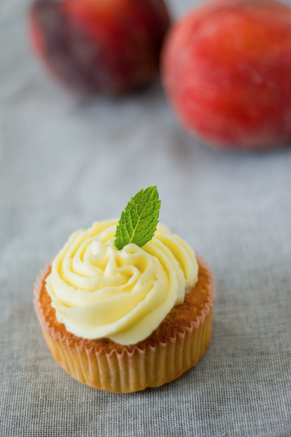 Difficulty: Easy
Prep time: 30 minutes
Cook time: 30 minutes
Servings: 30
Ingredients
1 cup unsalted butter
32 grams (about 1/3 cup) whole leaf Earl Grey tea
1 1/2 cups sugar
1 zested lemon
2/3 cup tea-infused, plus 3/4 cup regular butter butter
3 eggs
1/2 teaspoon ground ginger
1 1/2 cup all- purpose flour
1/2 cup milk
1 cup overripe finely chopped peaches
12 oz room temperature cream cheese
3 cups sifted powdered sugar
3/4 teaspoon lemon extract
for garnish fresh mint
Directions
For the Tea-Infused Butter:
In a small saucepan, melt 1 cup butter on medium-high heat until just melted.
Add the tea leaves.
Continue heating the mixture for about 5 minutes on low heat.
Remove from the heat and allow to stand for another 5 minutes.
Pour the mixture through a fine sieve, pressing hard on the tea leaves to squeeze out as much butter as possible.
Let the butter come to room temperature and refrigerate until it is no longer liquid or until ready to use.
For the Cupcakes:
Preheat oven to 350º.
In a small bowl, mix sugar and lemon zest. Allow to sit for at least thirty minutes.
In a large bowl, cream tea-infused butter and lemon sugar.
Beat in eggs, one at a time.
Beat in ginger.
Beat in flour, one cup at a time, alternating with milk.
Fold in peaches.
Fill cupcake liners 2/3 full.
Bake for 20 minutes or until cupcakes bounce back when lightly touched.
For the Lemon Cream Cheese Frosting:
In a large bowl, mix cream cheese and 3/4 cup room temperature butter until light and fluffy.
Mix in powdered sugar one cup at a time until well integrated.
Mix in lemon extract.
Spread or pipe onto cupcakes.
Top with mint leaves.