Peach and Cinnamon Cobbler
By
Deen Brothers
JUMP TO RECIPE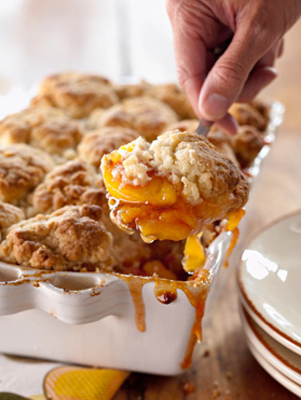 Featured in:
The Deen Bros. Y'all Come Eat
Difficulty: Easy
Servings: 6 to 8
Ingredients
Butter for coating dish
6 cups peaches
3/4 cup sugar
1/4 cup quick-cooking tapioca
1 teaspoon ground cinnamon
1 teaspoon freshly squeezed lemon juice
Pinch salt
1 2/3 cups all-purpose flour
for dusting
3 1/2 tablespoons sugar
1 1/2 tablespoons baking powder
1/8 teaspoon salt
6 tablespoons cold unsalted butter
2/3 cup heavy cream
Directions
Preheat oven to 350°F. Butter a 2 1/2-quart baking dish. In a medium bowl, stir together the filling ingredients. Pour filling into the prepared dish; set aside.
For the topping, in a food processor or large bowl, pulse or whisk together the 1 2/3 cups flour, the sugar, baking powder, and salt. Pulse or cut in the butter until the
mixture resembles coarse crumbs. Slowly add the 2/3 cup cream, mixing until the dough just comes together. Turn the dough onto a lightly floured surface and pat together. Form the dough into 2-inch balls. Flatten balls gently with the palm of your hand.
Evenly arrange the dough rounds on top of the filling. Brush a little cream over the rounds. Bake about 1 hour or until the biscuits are golden and the filling is bubbling.