Paula's Popcorn Nut Balls
By
Paula Deen
JUMP TO RECIPE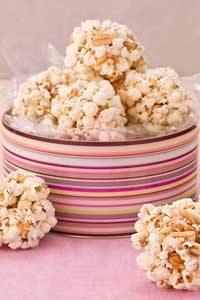 Difficulty: Medium
Prep time: 15 minutes
Cook time: 15 minutes
Servings: 15
Ingredients
2 cups sweet and salty glazed and roasted almond pieces
2 cups sugar
1 1/3 cups water
1/2 cup light corn syrup
1 teaspoon white vinegar
1/2 teaspoon salt
1 teaspoon vanilla extract
18 cups fresh popped and lightly salted popcorn
4 tablespoons for hands butter
Directions
In an extra large mixing bowl, toss together nuts and popcorn. Set aside.
In a medium saucepan over high heat, bring sugar, water, syrup, vinegar and salt to 260 °F (hard-ball stage) on a candy thermometer. Stir in vanilla. Pour hot mixture over popcorn and nuts, tossing gently to coat. When mixture is cool enough to handle, rub hands with room temperature butter and form popcorn into 4 inch balls. Place on waxed paper until cool. Wrap in clear plastic wrap and tie with a decorative ribbon.
Note: Use caution when handling hot syrup. Syrup stays especially hot on nuts.