Paula's Italian Pasta Salad
By
Paula Deen
JUMP TO RECIPE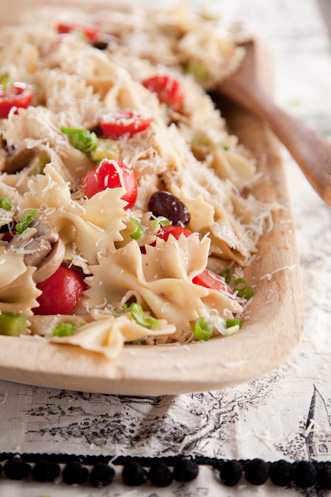 Difficulty: Easy
Prep time: 10 minutes
Cook time: 10 minutes
Servings: 10
Ingredients
1/2 teaspoon plus more for seasoning salt
1 lb bow tie pasta
1 cup (store bought) balsamic vinaigrette dressing
1/4 cup mayonnaise
1 tablespoon sugar
2 cups halved cherry tomatoes
1 (4 oz) can drained sliced mushrooms
2/3 cup pitted kalamata olives
1/2 diced green bell pepper
1/2 teaspoon freshly ground black pepper
grated for topping Parmesan cheese
Directions
Bring a large pot of salted water to a boil over medium heat. Add the pasta cook it according to package directions.
While the pasta is cooking, in a small bowl, whisk together the balsamic vinaigrette, mayonnaise and sugar.
Drain the pasta well, transfer to a large serving bowl, and let cool. Add the tomatoes, mushrooms, olives, green pepper, salt, to taste and the black pepper. Pour the dressing over the salad and toss to combine. Sprinkle with the cheese, toss lightly, and serve.