Paula Deen Ooey Gooey Butter Cake
By
Paula Deen
JUMP TO RECIPE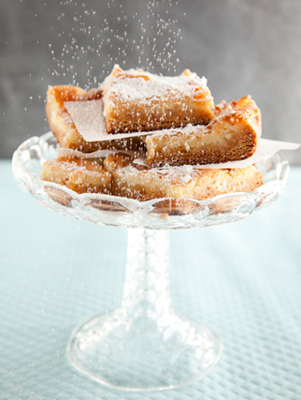 Difficulty: Easy
Ingredients
Ingredients
2 large eggs
1/2 stick butter, melted for batter
1/2 stick butter, melted for filling
1 box softened cream cheese
1 box ooey gooey cake mix
Directions
Directions
Preheat oven 350 degrees for metal or glass pan.325 degrees for dark or coated pan.
Grease sides and bottom of 8×8 pan with shortening or oil spray.
Blend ooey cake mix, 1 egg, ½ stick butter in a large bowl.
Beat at medium speed for one minute. Pat the mixture evenly onto bottom of greased pan.
Beat cream cheese in a separate bowl until smooth.
Add 1 egg and ½ stick butter and beat together. Add gooey filling mix and blend together.
Spread filling evenly over the cake butter.
Bake for 35-45 minutes. Do not over bake. The center should be a little gooey.
Cool completely before cutting!