Paula Deen Cuts the Fat: Old-Fashioned Strawberry Pie
By
Paula Deen
JUMP TO RECIPE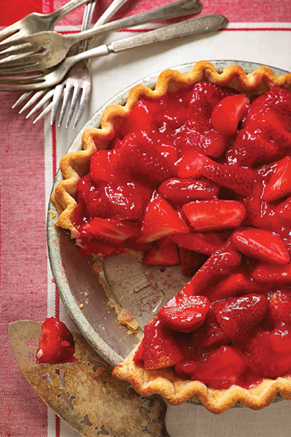 Featured in:
Paula Deen Cuts the Fat
Difficulty: Easy
Prep time: 20 minutes
Cook time: 20 minutes
Servings: 20
Ingredients
for dusting all purpose flour
1 9-inch unbaked prepared piecrust
1 package (0.3 ounce) sugar-free strawberry gelatin
2 tablespoons cornstarch
1 cup water
2 pounds fresh strawberries
Directions
Dust a work surface with a small handful of flour. Roll the dough into a 12- inch round about ¼ inch thick. Use it to line a 9- inch pie plate, folding over the excess edges of the dough and crimping them if you like. Chill in the refrigerator for 30 minutes or up to overnight (cover lightly with plastic wrap if chilling for more than 2 hours). Skip this step if you are using a prepared piecrust.
When you are ready to bake the pie, preheat the oven to 375 °F.
Use a fork to prick the bottom of the pie a couple times. Line the dough up the sides with parchment paper or aluminum foil and fill with dried beans or pie weights. Bake for 20 minutes, then reduce the oven temperature to 350 °F. Remove the beans or pie weights and the paper or foil, return to the oven, and bake for 5 minutes. Remove the piecrust and let it cool.
In a small saucepan, whisk together the gelatin and cornstarch. Whisk in the water and bring to a simmer. Whisk continuously for about 5 minutes, scraping the bottom of the pan. Once the mixture has thickened, pour it into a medium bowl and continue to whisk for 1 to 2 minutes. Let the mixture cool for 15 minutes, whisking occasionally. The gelatin should be runny.
Rinse, dry, and hull the strawberries. Place them in a decorative pattern on the bottom of the cooled piecrust. Pour the gelatin over the berries and place the pie in the refrigerator until firm, about 1 hour. Once the pie is set, slice and serve.