Paula Deen Cuts the Fat: Down-Home Chicken Noodle Soup
By
Paula Deen
JUMP TO RECIPE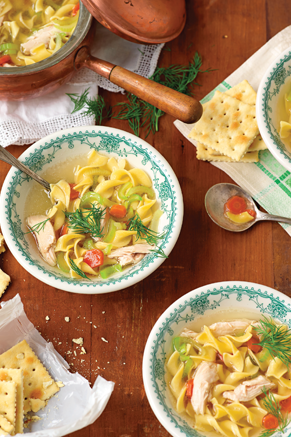 Difficulty: Medium
Prep time: 30 minutes
Cook time: 30 minutes
Servings: 30
Ingredients
1 tablespoon olive oil
1 large coursely chopped onion
4 thinly sliced carrots
4 thinly sliced celery stalks
2 smashed and peeled garlic cloves
1 3 1/2 to 4 pounds, rinsed and patted dry, cut into 8 pieces, and skin removed whole chicken
1 tablespoon plus more to taste salt
4 fresh thyme sprigs
1 bay leaf
to taste freshly ground black pepper
8 ounces whole wheat egg noodles
for serving chopped fresh dill
Directions
In a large pot, heat the oil over medium heat. Add the onion, half the carrots, half the celery, and the garlic. Cook until lightly browned and tender, about 10 minutes. Add the chicken, 8 cups water, salt, thyme, bay leaf, and pepper to taste. Simmer gently, skimming off any foam that rises to the top of the pot, until the chicken is cooked through, about 1 hour.
Strain the soup into a large bowl. Discard the vegetables and set the chicken aside to cool. When the chicken is cool enough to handle, pick the meat off the bones, discarding the bones.
Return the strained liquid to the pot and bring to a boil over high heat. Add the remaining carrots and celery. Simmer over medium heat until the vegetables are almost tender, about 5 minutes. Stir in the noodles and cook the noodles according to the package directions. Stir in the shredded chicken in the last 2 minutes of cooking time. Season to taste with salt and pepper, ladle into bowls, and garnish with dill.