Paula Deen Cuts the Fat Dirty Rice
By
Paula Deen
JUMP TO RECIPE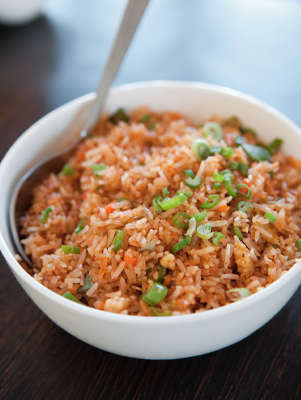 Featured in:
Paula Deen Cuts the Fat
Difficulty: Medium
Prep time: 15 minutes
Cook time: 45 minutes
Servings: 6 to 8
Ingredients
1 cup long-grain brown rice
2 cups water
¾ teaspoon salt
1 tablespoon olive oil
½ pound extra-lean ground beef or ground turkey
½ pound chicken livers, cleaned and finely chopped
½ teaspoon freshly ground black pepper
1 tablespoon unsalted butter
½ cup chopped green bell pepper
½ cup chopped yellow bell pepper
½ cup finely chopped celery
4 scallions (white and light green parts), chopped
1 garlic clove, finely chopped
hot sauce, to taste
chopped fresh parsley, for serving
Directions
In a medium saucepan, combine the rice, water, and ¼ teaspoon of the salt. Bring to a boil over medium- high heat. Reduce to a simmer, cover, and cook until most of the liquid has been absorbed and the rice is tender, about 45 minutes. Remove from the heat and let stand, covered, for 5 minutes.
Meanwhile, in a large skillet, heat the oil over medium- high heat. Add the meat and cook, breaking it up with a fork, until well browned, 5 to 7 minutes. Add the chicken livers and cook, turning once, until no longer pink, 2 to 3 minutes. Season with another ¼ teaspoon of the salt and ¼ teaspoon of the black pepper. With a slotted spoon, transfer the mixture to a paper towel– lined plate to drain.
Return the skillet to the heat. Add the butter and let it melt. Add the green bell pepper, yellow bell pepper, the celery, scallions, and garlic. Cook until the vegetables have softened, 5 to 7 minutes. Stir in the cooked rice and the meat mixture, and cook until warmed through. Season to taste with the hot sauce and the remaining ¼ teaspoon salt and ¼ teaspoon black pepper. Stir in the parsley just before serving.