Oven-Fried Chicken
By
Paula Deen
JUMP TO RECIPE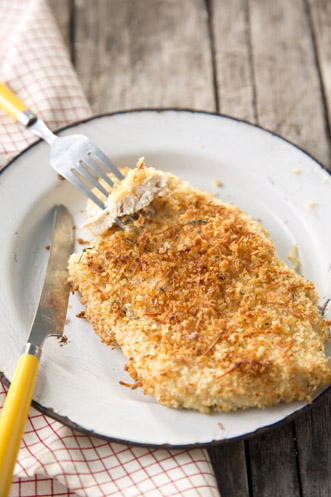 Difficulty: Easy
Prep time: 15 minutes
Cook time: 15 minutes
Servings: 15
Ingredients
1 cup buttermilk
1/2 cup unflavored yogurt
2 teaspoons spicy brown mustard
2 teaspoons hot sauce
2 teaspoons (1 teaspoon chopped, if fresh) dried tarragon
2 teaspoons paprika
2 teaspoons salt
1 (2 1/2 lb) cut into serving pieces (or 4 to 6 breast halves) chicken
1/2 cup all purpose flour
1/2 cup plain oatmeal
Directions
For the marinade:
In a small bowl, mix together the buttermilk, yogurt, mustard, hot sauce, tarragon, paprika and salt. Put the chicken in a heavy re-sealable plastic bag or a baking pan large enough to hold the pieces in one layer and pour the buttermilk over it. Seal the bag or cover the pan with plastic wrap and marinate in the refrigerator for about 8 hours.
For the breading:
Preheat the oven to 450º.
Grease a baking pan large enough to hold the chicken pieces in 1 layer.
Place the flour and oatmeal in a brown paper bag. One piece at a time, place the chicken in the bag and shake until coated. Place the pieces skin side down in the prepared baking dish. Continue until all the pieces are covered in the flour mixture. Bake for 40 to 45 minutes, turning once, until the chicken is golden brown.