Orange Citrus Bars
By
Paula Deen
JUMP TO RECIPE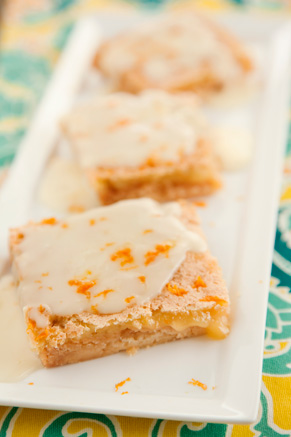 Difficulty: Easy
Prep time: 15 minutes
Cook time: 15 minutes
Servings: 15
Ingredients
1 zested plus 1/2 zested for glaze orange
1/2 teaspoon baking powder
1/3 cup plus 1/2 cup for glaze orange juice
4 large eggs
2 cups granulated sugar
1 cup cold cubed butter
4 1/2 cups confectioner's sugar
2 1/4 cups divided all purpose flour
Directions
Preheat oven to 325 °F.
Crust:
In a large bowl, combine 2 cups flour and 1/2 cup confectioner's sugar. Cut in butter with a pastry blender until mixture is crumbly. Press evenly into bottom of a 13 by 9 by 2-inch baking pan. Bake 20 minutes, or until lightly browned.
Filling:
In a medium bowl, whisk together sugar, eggs, and 1/3 cup juice until well mixed. Add 1/4 cup flour and baking powder, stirring to combine. Sprinkle in the zest of one orange.
Pour into hot baked crust, and bake 25 minutes, or until set. Cool the bars, so you may top with orange citrus glaze.
For the Orange-Citrus Glaze:
Add 4 cups of powdered sugar and 1/2 cup orange juice together, so that it combines to make a nice creamy glaze sauce consistency. Add zest of 1/2 orange. When all ingredients are mixed well, pour onto the citrus bars.