Lighter Orange Citrus Bars
By
Deen Brothers
JUMP TO RECIPE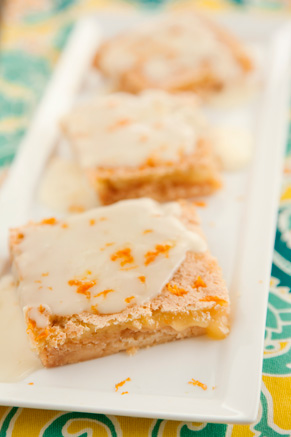 Difficulty: Easy
Prep time: 15 minutes
Cook time: 15 minutes
Servings: 15
Ingredients
1 cup all purpose flour
from one large orange orange zest
1/4 teaspoon salt
1/4 teaspoon baking powder
2 large eggs
1 egg white
3 tablespoons softened butter
3/4 cup granulated sugar
2 tablespoons cornstarch
1/4 cup orange juice
1/4 cup lemon juice
Directions
Preheat the oven to 350 °F degrees. Line an 8 x 8-inch baking pan with foil, allowing the foil to extend over the pan by 2 inches. Lightly spray with nonstick spray. Whisk together the flour, salt and baking powder in a small bowl. Whisk together the eggs and egg white in another small bowl.
To make the crust, with an electric mixer on low speed, beat the butter in a medium bowl until smooth. Add 1/4 cup of the sugar and half of the orange zest and beat until blended. Beat in 1 tablespoon of the egg mixture and 1 teaspoon of water. With the mixer on low speed, gradually beat in the flour mixture until blended. Evenly press the dough onto the bottom and 1/4-inch up the sides of the pan. Bake until the crust is golden, 15 to 20 minutes. Transfer to a wire rack. Reduce the oven temperature to 300 °F.
Meanwhile, to make the filling, whisk together the cornstarch and the remaining 1/2 cup sugar in a medium bowl. Whisk in the remaining egg mixture, the remaining orange zest, orange juice and lemon juice until well blended. Pour over the warm crust.
Bake until the filling is set, 15 to 20 minutes. Let cool in the pan on a rack. Refrigerate until well chilled, at least 2 hours or overnight. Lift from the pan using the foil as handles. Cut into 12 bars.