Old Fashioned Baked Beans
By
Paula Deen
JUMP TO RECIPE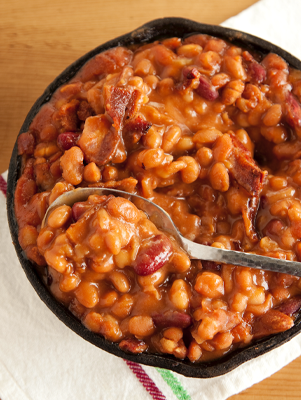 This old-fashioned baked beans recipe is a classic dish that everyone will enjoy!
This old-fashioned baked beans recipe is a classic dish that everyone will enjoy!
Difficulty: Easy
Ingredients
1/2 pound thick sliced bacon
2 pounds (4 cups) or red kidney, pintos, Great Northern, or a mixed bean assortment pea (white navy) beans
1 1/2 cups tomato sauce or catsup
1/2 cup dark brown sugar
1/2 cup unsulfured molasses
1 to 2 cloves minced garlic
3 medium onions, 1 trimmed, quartered and peeled, 2 trimmed, split lengthwise, peeled, and chopped
1 teaspoon or more dry mustard , to taste
1-2 tablespoons Worcestershire sauce
salt
Directions
Sort through the beans, discarding any that are discolored or damaged, and rinse them well. Put them in a large, stainless or enameled pot. Add a heavy sprinkle of salt to the beans and cover them by at least 2 inches with cold water. Put this over medium heat and bring the beans slowly to the boiling point. Turn off the heat and let them soak until doubled in bulk, about an hour.
If the water is no longer covering the beans, add enough to cover them by an inch and turn on the heat to medium. Add the quartered onion. Bring it slowly back to a boil, reduce the heat to a steady simmer, and cook until tender, about 1 hour, replenishing the liquid with simmering water if necessary (do not add cold or hot tap water). When almost tender, add a tablespoon of salt and simmer at least 10 minutes longer, or until completely tender. The old cooks would take up a small spoonful of beans and blow on them: when the skin blistered, they were ready. Remove and discard quartered onion.
Position a rack in the center of the oven and preheat to 250 degrees F or prepare a 4-quart slow cooker.
Mix together the garlic, molasses, brown sugar, tomato sauce or catsup, mustard and Worcestershire in a small mixing bowl. When the beans are tender, drain them, reserving the cooking liquid, and mix them with the chopped onions in a bean pot, covered casserole, or the crock of the slow cooker. Stir in the seasoning mixture and, if the bacon is not very salty, a pinch of salt. Add enough of the cooking liquid to fully cover them.
Cut the bacon in half crosswise. Press a couple of strips into the beans and then completely cover the top with the remainder.
Cover and bake slowly at least 5 hours (some cook them overnight, for as long as 8 to 10 hours), adding reserved cooking liquid if the beans get too dry, or cook 1 hour on high in the slow cooker, reduce to low, and cook on low for 8 to 10 hours. For a crusty, browned top, uncover, and bake an hour longer or transfer from the slow cooker to a bake and serve casserole and bake at 350 for half an hour.