Oatmeal Raisin Cookies
By
Paula Deen
JUMP TO RECIPE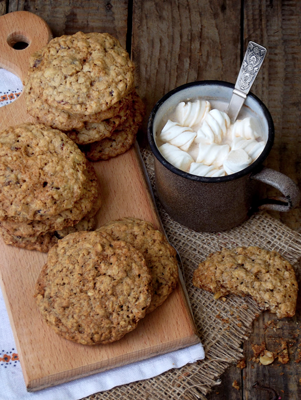 Difficulty: Easy
Prep time: 10 minutes
Cook time: 10 minutes
Servings: 10
Ingredients
1 cup chopped pecans
1 cup raisins
2 sticks at room temperature butter
1 cup packed brown sugar
1/2 cup granulated sugar
1 teaspoon vanilla extract
2 eggs
1 1/2 cups unbleached all-purpose flour
1 teaspoon baking soda
1 teaspoon ground cinnamon
1 teaspoon salt
2 cups uncooked old-fashion rolled oats
Directions
Preheat the oven to 350 °F. Like a baking sheet with parchment paper.
Add 1/2 cup water to the pecans and raisins, then microwave for 90 seconds. Allow the raisins and pecans to sit on the counter for about 10 minutes. Drain the raisins and pecans and set aside.
In a large bowl, combine the butter and the sugars and beat with an electric mixer until very creamy. Add the vanilla extract and eggs, and beat again until mixed.
In a small bowl, sift together the flour, baking soda, cinnamon and salt. Add it to the butter mixture. Add the oats, raisins and pecans. Mix together.
Drop heaping tablespoons of batter onto the prepared baking sheet. Leave plenty of room for the cookies to spread. Bake until the cookies are cooked in the middle, 10 to 12 minutes. Remove the cookies from the oven. Cool on the baking sheet for about 3 minutes before transferring to a wire rack to cool completely.