Mudslide Pie
By
Paula Deen
JUMP TO RECIPE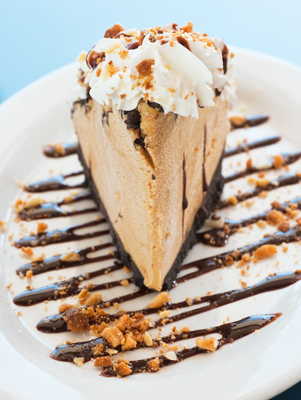 Difficulty: Easy
Prep time: 20 minutes
Cook time: 20 minutes
Servings: 20
Ingredients
7 oz plus more for garnish chocolate cookie crumbs
2 tablespoons melted butter
3 (1 quart) containers coffee ice cream
chocolate sauce
chopped optional nuts
Directions
For the crust:
Using a large mixing bowl, place cookie crumbs and melted butter. Mix until the ingredients are well blended and moist. Keep mixture at room temperature until needed for pie shells.
Lightly spray 2 pie tins with vegetable oil. Place the prepared crust into the pie tins and press firmly on the bottom and sides of each tin, forming a smooth and even thickness approximately 1/8-inch thick. Use a ladle to even out the crusts. Place the pie crusts in freezer before ice cream can be placed into crusts.
For the filling:
Equally portion the ice cream into the pie shells. Mound the ice cream to create a 3-inch high dome. Use a glove and napkin to help with this process. Place pies on a sheet pan and place in the freezer for approximately 6 hours or more.
To serve, drizzle with chocolate sauce and sprinkle with more cookie crumbs and chopped nuts, if desired.