Miss Georgia's Cherry Pie
By
Miss Georgia 1965
JUMP TO RECIPE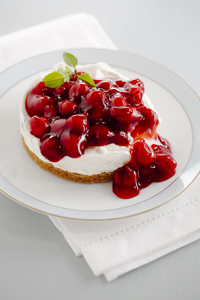 Difficulty: Easy
Prep time: 15 minutes
Cook time: 15 minutes
Servings: 15
Ingredients
1 1/4 cups graham cracker crumbs
1 stick (or butter) margarine
8 oz room temperature cream cheese
1 cup confectioner's sugar
2 teaspoons milk
1/2 pint whipping cream
1 cup chopped pecans
1 teaspoon vanilla
1 can cherry pie filling
Directions
Pre heat oven to 325 °F
Melt butter or margarine in saucepan. Once melted, add graham cracker crumbs. Press in bottom of oblong baking dish. Bake 15 minutes. Chill.
In large mixing bowl using a hand mixer cream the cream cheese, milk and sugar until well blended. Spread on top of graham cracker crust. Sprinkle chopped nut on top of cheese mixture.
In mixing bowl whip cream until stiff and add vanilla, mix thoroughly. Spread whip cream over nuts. Chill for 2 to 3 hours. Spread cherry pie filling over whip cream layer. Let chill over night. Cut into squares and lift out with spatula.
Notes From Paula's Test Kitchen: Pie never became really firm. However will slice clean. On our second test, we increased the cream cheese by 4 oz and vanilla by 1/4 teaspoon. We made our pies in individual 6″ round springform pans. Pie was firm with simple flavors and was presented beautifully in the little round shape.
Interesting Side Note From The Food Editor: Since this recipe was originally handed down by Miss Georgia 1965 we decided to style this dish on a china pattern of my grandmothers. A beautiful light blue band with gold trim around the plate. Purchased new in Moberly, MO in 1965.